Adopt. Don't Shop
by Jill
(United States)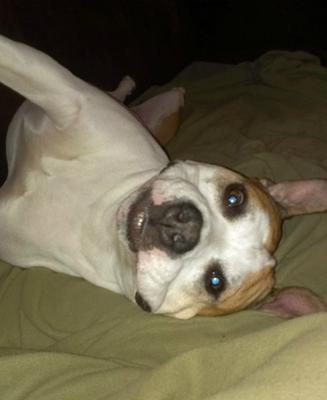 Gunner Being Silly
The best decision I ever made was to rescue my Pit Bull.

With his huge mouth, strong head and body, and his bulky look, many would be scared of him.

I'd known him (Gunner) since he was a very young pup. He was living with a family who had become overwhelmed and could no longer care for Gunner. They decided that their only option was to surrender him to a shelter.

Well, as many of us know, unfortunately, many Pit Bulls in shelters are euthanized within 72 hours of arriving.

My husband and I decided that we weren't going to let that happen. And even though I already knew him, at that time, my first priority was our cat. She's scared of dogs and I didn't know how Gunner would react around a cat.

I was afraid that he may kill her.

Boy was I naive.

He joined our family when he was 2 1/2 years old. So we missed the puppy stage and I'm so glad. He was already house trained and past any chewing stage. He was perfect.

What we quickly found was that we'd just saved the life of the most handsome, grateful, hilarious, and kind creature that has ever walked this earth.

He is now a Momma's Boy and we spend many days just cuddling.

As far as our cat goes, I was silly to worry. She held her own and let him know that SHE was in charge of this household. He respects her and just tries to avoid her as much as possible because as much as he respects her, he's afraid of her. :-)

Gunner has taught me so many things...
- How to love unconditionally.
- That Pit Bulls are not scary monsters, they're loyal love bugs. He'll be training soon to become a therapy dog.
- That getting dogs that are past the puppy stage... saving a life, is the best way to go.
- How to forgive.

Bringing him into our lives, no matter how afraid I was, forever changed the track my life was on. I never set out to be a Pit Bull owner, but I am. And I love it.
Join in and write your own page! It's easy to do. How? Simply click here to return to Adopt A Dog.