Free Dog Adoptions
Are you wondering if there is such a thing as free dog adoptions? Where can you find a free dog for adoption? What should you look for when adopting a free dog? As a child, we always had a dog and I don't think we paid for any of them. We got all of our dogs from people who were trying to give away puppies born to the family dog that got out of the yard!
Does it seem that free puppy and free dog adoptions are less easy to find than they used to be? Dogs that are no longer wanted end up in the county shelter where you have to pay before you can take them home. Unfortunately, it seems that people have become too busy to take the time to find their dog a good home on their own. No kill shelters may have contributed to this as they lessen people's guilt by allowing them to leave the dirty work to someone else.
If you type "Free Dog" into the search engines you'll get results from places such as Ebay Classifieds, Classified Ads.com, and so forth - with results for sites that allow you to place a free ad to sell your dog, not where you can find a free dog. There are however, some sites that do have ads for free puppies and dogs; you just need to hunt a little harder.
It's important to be wary when looking for anything free on the internet, especially something as important as a live animal! First of all, be careful of scams. You're probably aware that there are an abundance of scam artists on the internet. And they're good. Most of us have probably been taken to some extent with one thing or another on the internet. After all, you expect others to treat you as you would treat them - with honesty, so it's hard to imagine others wouldn't do the same! So..just a few words of caution.
Do not do everything via email. Make sure you can talk to the person via phone.
Make sure you can first see a picture of the dog - someone who's motivated to find their pet a new home will have taken the time to post a picture. It's so easy to do.
Try to work with someone local so you can easily visit the pet.
Do not choose a dog that has to be shipped to you.
If you are paying a fee for your new dog that you've found on the internet, use a credit card or an escrow service. Never wire funds via any wire service.
Be wary if paying for a puppy if the price is too low. Purebred puppies are expensive. If the price is too low, be suspicious.
Ask the owner for veterinarian records for proof of shots, neutering, etc.
Why is the Dog Being Given Away?
This is huge.
Does the dog have any behavior problems? Does he bite? Is he aggressive? Does he have food aggression? I've been so lucky with my adopted dog. She's close to 80 pounds, (half Newfoundland, half Lab), and she has never shown any sort of aggression toward people. You can take a bone out of her mouth or a bowl of food away from her while she's eating.
Does she live with any other animals? How does she treat them? Is she jealous? Sydney is! She doesn't do anything, but she doesn't like when I pay too much attention to the cats. When I bend down to pet the cat, sometimes she'll put her body between us. If one of the cats walks by Sydney's toys, she may run over and grab it; the toy that is! But she hasn't tried to harm them.
Now Sydney cannot live with bunnies because she definitely wants to chase them. So although she's fine with cats, we could definitely not have a pet bunny.
What do you consider a good reason for someone to give away their dog? To me, it should be a last resort. Is the family moving and can't take the dog with them? Is the dog too active? Is there a new baby in the family? Is the person getting married? Has someone developed an allergy to the dog? Does the dog have a health issue?
I can't think of a single reason why I'd give up my dog. When I was a child, my parents gave away our dog when we moved and it was devastating. We also had to give away two of my cats because where we lived no longer allowed pets. I still remember how painful it was to lose them.
If someone is giving their dog away and the reason is one that makes sense to you; if the dog seems well cared for, and the owners are willing to answer your questions and to show you the dog's health records, then free dog adoption might be right for you. Don't be tempted by a cute face; you need to make sure that the dog's personality, his activity level, his age, his grooming requirements - the dog's basic needs - match what you are looking for in a dog.
Don't ever be offended if the dog's owner asks you a lot of questions. A caring pet owner, if forced to give away their dog, wants to ensure their dog goes to a good home. One of the questions they may ask is whether you have children. It's a good idea anyway to visit your potential new friend with your kids to see the dog's reaction. The owners may ask where you intend to keep the dog - while you're home, while you're away, and at night. Do you have a fenced yard? Do you own your home? Both you and the owner should be sure the dog is a good fit for your family. It would be unfair to the dog to be given away a second time. He's already had to form a bond with two owners.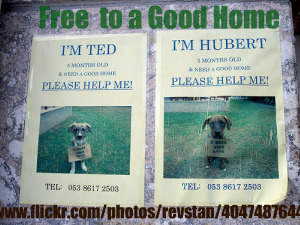 ---
Free dog adoptions are not as prevalent as you might expect. After all, isn't there an over abundance of dogs that need good homes? Be aware that animal welfare agencies don't advise giving away family pets for free, believing that people tend to place more value on something they pay for. So if YOU must give up your dog, make sure you ask a fee for him. If you are looking for free dog adoptions, follow the guidelines and use the resources on this page.
Free Dog to a Good Home
You can find listings for free dog adoptions on the following sites:
DomesticSale.com
(Links to sites with free dog adoptions open in a new window.)
Other places to look for free dog adoptions are at your local vet. Also, dog parks and animal supply stores may have free dog adoption listings. Also, use social networking. If you use Facebook or one of the other social networking sites, you can post on your page that you are looking to adopt a free dog. You may get good results as you will be in contact with people you know and trust. Word of mouth works wonders!
Remember, once you have your free dog, it's not free to keep and care for him properly. Paying to adopt a dog from a shelter is not a bad thing, as a dog found at any good shelter will be current on his shots and have been spayed or neutered. Plus, shelters depend on volunteers and donations, so the fee you pay will help care for the other animals until they find a forever home.
Though you may have gotten your dog for free, once you have him, there will be continuing expenses, including food, a bed, toys, grooming, and veterinarian expenses, including routine care and vaccinations. It's important that you have the financial resources to properly care for a dog.
And, just as importantly, though you may have found a free dog for adoption, please don't think less of him than if he came with a large price tag. Your free dog is not expendable. He deserves the same excellent care and treatment you would give a purebred that cost a $1000 or more. In return, the love and loyalty he will give you? Priceless$$$!
---
Since we're speaking of free here, let me point you to a fun site on dogs with lots of free, fun things. I really enjoy it and I'm sure you will too - Out-and-about-with-your-dog.com - A British site with monthly dog photo contest. Also on-line dog jigsaws, poetry/jokes, dog names, dog wheelchairs, tons of photos! A down-to-earth site with visitors from all over the world.
Does your dog have anxiety issues? Did you know that there's music to calm your canine? Visit Through a Dog's Ears for FREE CDs for shelters and to learn more about how to calm your dog's anxiety with music.



---
And for more free stuff, visit another page on my site - fun dog quotes
---
Return from Free Dog Adoptions to Adopt the Right Dog Homepage