Dog Adoption Centers
Dog adoption centers and animal welfare organizations house thousands of adoptable dogs, from purebred to mixed-breeds to adorable mutts just waiting to be taken home and loved by someone like you.
All you need to do is figure out what dog is right for you, and then visit one of the dog adoption centers in your area. If you don't find the dog you want on your first visit go back in a week or visit one of the other animal adoption agencies nearby. Think about the type of dog you want - big, little, a mixed-breed or a mutt. A busy dog, a mellow dog, a family dog or a dog just for you.
It's so important that you consider all the factors involved in adopting a dog before you choose a dog. Do you have other pets? It probably wouldn't be a good idea to adopt a dog in the hound group if you have a pet bunny. If you live in an apartment, you'll probably not want a large breed dog. Larger dogs tend to tolerate children better than small dogs will. Seriously think about what type of dog you want so you can give your new dog a forever home. Once a dog has been abandoned, it would be a terrible shame to have it happen again.

N.O.A.H - A wonderful no-kill shelter
I adopted my sweet dog, Sydney, a Newfie/Lab mix from a place called N.O.A.H. This particular dog adoption center is a shelter that takes in animals that have run out of time in other shelters. They work with these area agencies and only accept pets directly from their facilities, giving animals on death-row another chance at life.
I was extremely impressed with their facilities which were clean and fresh smelling. One of the things that makes this agency special is how the dogs are housed. They have 17 glassed-in suites with heated floors, doggie doors to an outside run, hammock beds, and a visitor's chair. Cats are also in a great setting in a separate wing and enjoy an open-room area with attached screened-in sun porch, plexiglass, single space condos or two connected space duplexes.
N.O.A.H. has an on-site spay/neuter clinic with a separate entrance with lobby, separate recovery rooms for dogs and cats, a treatment/surgery prep area, and a two table surgery room. All animals are neutered before being adopted.
This is one of the finest dog adoption centers I've ever seen. Their goal is to eliminate the euthanasia of healthy adoptable dogs and cats in the northwest; (they are located about 30 miles north of Seattle). They keep all their animals until proper forever homes are found for them. As with most dog adoption centers, this is a non-profit organization supported solely by donations.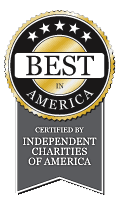 ---

N.O.A.H has been recognized by Independent Charities of America and Charity Navigator which highlights the work of efficient charities. N.O.A.H. has earned Charity Navigator's highest rating of 4-stars!
This is the type of reputable agency you want to visit when searching for a dog to adopt. They are able to provide education and expertise in animal welfare and placement.

---
Dog Rescue Shelters - Individuals Making a Difference
I am so impressed by people who stand up and make a difference all on their own - individuals who spend their time and money to rescue, temporarily house, and find permanent homes for abandoned dogs. These people need special recognition - plus they need help getting the word out. I hope you'll visit my page dedicated to them.
Share your own dog rescue story too!
The Humane Society of the United States
There are an amazing number of no-kill, non-profit animal shelters that help dogs and cats who were once victims of cruelty or neglect find new homes and start new lives with loving families. They provide medical care for injured, neglected, and abandoned animals.
Unfortunately, the need for these types of agencies is caused by the unbelievable cruelty of others. How anyone can cause an animal to suffer is incomprehensible.
If you're lucky enough to already have a wonderful, loving dog, and aren't currently looking for one to adopt, animal welfare charities are always in need of contributions.
Make a contribution as a gift for a friend who has everything. Animal lovers would be thrilled to know of your thoughtful gift in their honor. Send them a card with a special message and support the Humane Society of the United States.

---
North Shore Animal League of America
North Shore Animal League of America, headquartered in Port Washington, NY, is the largest no-kill animal rescue and adoption organization in the world. Since 1944, The Animal League's mission has been saving the lives of pets through adoption, rescue, spay/neuter and advocacy initiatives. Every year, North Shore Animal League of America travels the nation to help find homes for hundreds of orphaned dogs, cats, puppies and kittens, and to raise public awareness concerning the plights of all shelter pets.
Dogs & Puppies - Next Day Pets - Provides a venue for a dog rescues and dog breeders to find quality homes for adult dogs and puppies with information on 300+ dog breeds. Browse our dog website directory, dog pictures, dog videos and dog names.
These are just a few of the many awesome agencies dedicated to the rescue and rehoming of abandoned or no longer wanted dogs and other pets. The majority are funded solely through donations. Take a look at some of my other favorite animal rescue charities.
---
Return from Dog Adoption Centers to Adopt the Right Dog