Prison Dogs
Did you know that prison dogs work in prison so they can be adopted? No, that doesn't mean your adopted dog has a record, but the person who trained him does! Currently, prisoners are learning a trade - how to train dogs, and in turn they are getting on-the-job training, teaching dogs to behave well enough to be adopted. It's a win for both sides. The prisoners are learning a productive trade, and the dogs are being saved from shelters and trained and socialized to get along with a family.
Some prison dogs will be trained to become nursing home and assistance dogs which perform a variety of tasks for their masters. And now military prisoners are training dogs to assist wounded veterans. Training these dogs provides the prisoner with a sense of purpose, saves dog that would otherwise be euthanized in a shelter, and assists our returning military personnel who have been injured defending our country. The dogs may be trained as sight-seeing dogs, as assistance dogs for paraplegics, or for soldiers suffering from post-traumatic stress.

---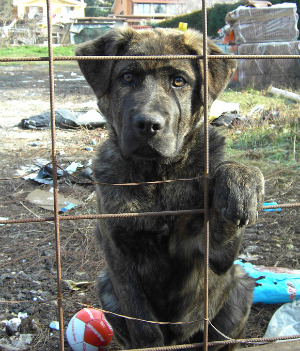 Photo by Enrico via Flickr

Prison Dog Training Programs
Washington State has a program called the Prison Pet Partnership Program which is a non-profit organization located on the grounds of the Washington Corrections Center for Women in Gig Harbor. They rescue and train homeless animals to provide service dogs for persons with disabilities and operate a boarding and grooming facility to provide vocational education for women inmates. Before the inmates can work with these dogs they must take and pass Pet Care Services Association's Pet Care Technician Level 1 course. To adopt one of their "paroled pets" visit their site
PAL Humane Society located in Apple Valley, CA has two programs, the Juvenile Detention Center and the Federal Correctional Institution.
The juvenile program focuses on teaching Youth at Risk humane treatment of animals and general animal care. The Federal Correctional Institute trains inmates to be kennel attendants, animal shelter managers, and dog trainers. The inmates and juveniles will assist with retraining the dogs so they can be placed in forever homes. You can learn more about their services and programs by visiting their website.
4 Paws for Ability, Inc. located in Texas, provides dogs from shelters to prisons. In return, the prisoners train the dogs in basic obedience and commands. The prisoners also spend much of their time nurturing and socializing dogs that may have been abused or abandoned or who have not been taught any social skills.
4 Paws For Ability, Inc. collaborates with prison systems in Ohio and West Virginia. Dogs selected from shelters are placed in the prison to be trained by the inmates for service dog work and future placement with people with disabilities. According to 4 Paws for Ability's website "the prisoners understand and relate to the shelter dogs that have been thrown out, discarded as one would discard a toy, no longer favored by a child. They understand rejection and abandonment, sadness and despair, and certainly suddenly finding themselves looking out at the world through the bars of a locked cell door."
Reading this has to warm your heart. What could better than helping to rehabilitate and give another chance to underprivileged humans and animals? The dogs and inmates provide love for each other, something that neither may ever have experienced.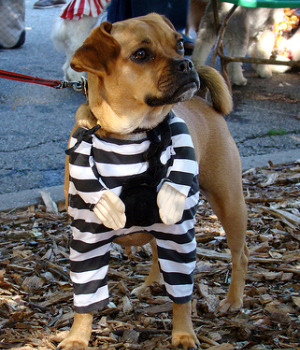 Photo by istolethetv via Flickr

Indiana Canine Assistant Network, (ICAN) service dogs are trained to assist children and adults who are managing various health conditions, including such things as cerebral palsy, autism, multiple sclerosis, spinal cord injuries, arthritis, and neuromuscular disorders. ICAN also places dogs with veterans who are managing a disabling condition. Inmates live with and train their dogs for nearly two years before the dog is placed. The disabled person who is matched with one of the prison-trained dogs must attend training at the prison with the inmate who has trained the dog.
Not all dogs trained to be therapy or assistance dogs meet all the requirements, and may be released from the program. Perhaps they don't have the right temperament or they may have a minor health issue. These well-trained and well-behaved dogs may be used for drug enforcement or search and rescue, or may they just need a great forever home, so please consider adopting one of them.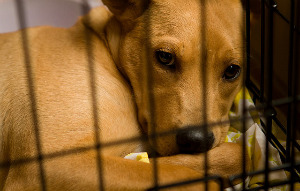 Photo by Jared Vork via Flickr

I love these prison dog programs that match unwanted dogs with prisoners. The inmates have a purpose while serving their time, as well as a skill after they've served their time. The dog benefits, the inmate benefits, and ultimately, whoever receives the well-trained dog benefits.



Return from Prison Dogs to Adopt the Right Dog Homepage